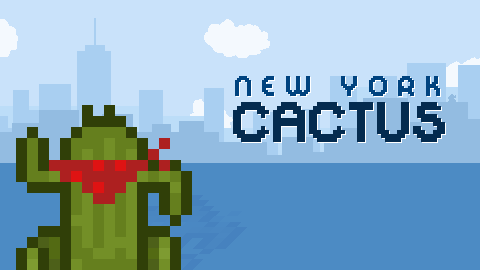 New York Cactus
How to Play:
- Use your mouse to drop items from the toolbar.
- Click on cactus in the level to move and hide the thief.
- You score a point every time you narrowly escape the sheriffs after they start to search your current cactus position.


Story:

In the era of Wild West outlaws, Dallas Booker was an infamous bandit. He led his band of dastardly ne'er-do-wells from town to town, swindling and ransacking and outrunning the law. But the law was darn-right fed up. Lawmen from towns across the West came together to form COPS: the Coalition of Outrageously Pissed-off Sheriffs. COPS set out and captured Dallas' entourage one by one, yet the man himself proved elusive. Little did they know that they'd passed right by him many times… Dallas was disguising himself as a cactus!
The fruitless chase continued into the frigid mountains where the desperado and his pursuers entered into a Mexican standoff. Days turned to weeks as they stubbornly held their ground. With time their bodies froze over, preserved in glimmering ice, until mountaineers discovered them one century later. They were brought to New York City to be displayed in a museum but defrosted in the process and escaped, beginning their chase anew.
Thanks to some decorative replanning, Central Park was littered with cacti. Donning his prickly attire, Dallas used his clever trick to evade the COPS once more...
Credits:
Writing & Game Concept: Tim Rattray @timrattray
Art: Zach Godin @zachjgodin
Audio: Anne Arcoíris
Voice Actor: Nicho Haddad @nichopocho
Programming: Asheraryam @asheraryam
Download
Click download now to get access to the following files:
new-york-cactus-win
42 MB
new-york-cactus-linux.zip
56 MB
Comments
Log in with itch.io to leave a comment.
Getting 16 points is quite the challenge. It's a really cool concept though, I just need more cacti. :)